Print and Make Your own Lightshade or Cushion
Paper Printing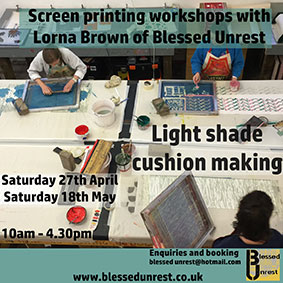 In these 1 day workshops students will experiment with a range of screen printing techniques to develop their own personalised fabric design.
You will use your own hand printed fabric to assemble and professionally finish a 30cm x 30cm diameter light shade or 45cm square cushion which I'll have made up for you.

No previous experience required.

Dates:
Sat 27th April, 10am – 4.30pm
Sat 18th May, 10am – 4.30pm
Price: £90 
Tutor: Lorna Brown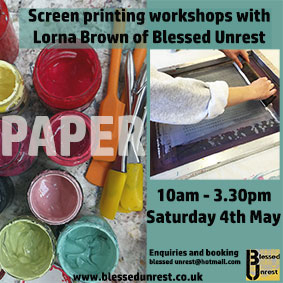 In this short 1 day course students would be familiarised with the tools, equipment, techniques and primary skills needed to create a range of really experimental layered screen prints on paper. You will be introduced to stencil printing as well as using exposed screen imagery. You'll take home a small portfolio of your very own artworks on paper.

No previous experience required.

Dates: Sat 4th May 10am – 3.30pm
Price: £48
Tutor: Lorna Brown 
Course Level: Suitable for beginners or those with some experience
All bookings and enquiries should be made online via https://www.blessedunrest.co.uk/ and payments must be made in full to guarantee a place.